Exhibitions
Premanent Exhibitions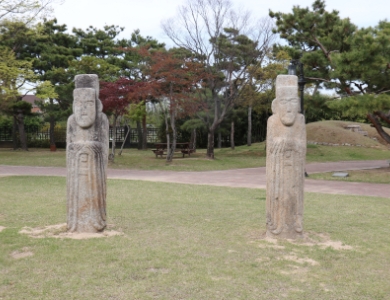 Outdoor Gallery
In the Outdoor Gallery, you can explore a number of tombs, stone structures, and large works of Buddhist art and folk art. Highlights include real tombs from Gunsan, Wanju, and Jeonju that have been relocated and restored, as well as a stone Buddha discovered in Museong-ri, Jeongeup. The local folk culture of North Jeolla Province is represented by a jangseung totem pole (replica) from Buan and a stone pagoda (replica) from Muju.
Ancient tombs
This area was restored by relocating tombs of Baekje period found in Doam-ri, Wanju, and Pyeonghwa-dong, Jeonju.
Stonewall tomb
The tombs in Dunsan-ri, Wanju, and Pyeonghwa-dong, Jeonju are stone tombs, which are made up of a wall and ceiling made of finely polished stones to bury the dead. Unlike the Dunsan-ri tomb in Wanju, which is believed to have been made in the first half of the 7th century, the tomb in Pyeonghwa-dong, Jeonju, was constructed in the 6th century earlier than the Dunsan-ri tomb.
Gunsan Doam-ri Tomb
Two Baekje tombs were moved from Doam-ri, Gunsan, and one of them was the Front Side Open Stone Tomb, which made the outer coffin frame by stacking stones to protect and enshrine the wooden coffin in which the body was placed, and the entrance to the side. Another one is the Stone Room Tomb, which has a stone room and entrance that is decorated like a home.
Buddhism Art Area
This area exhibits lotus ledge stones, including stone statues excavated in Museong-ri, Jeongeup.
Stone Buddha Statue in Museong-ri
Unlike other Buddhas, the stone Buddha excavated in Museong-ri, Jeongeup holds a flower in his hand. This flower is called Yonghwa and is considered a symbol of Maitreya (Mireukbul). Maitreya is said to be the Buddha to come in the future, 5.67 billion years after Sakyamuni entered nirvana and edify all sentient beings through three sermons.
Folk arts
This area is a replica of a stone jangseung stone pole in Seooe-ri, Buan, a stone pagoda in Daepyeong-ri, Muju, and a penis stone in Changdeok-ri, Sunchang.
Stone tower and pole
In the back of the old village, there was a mountain god's shrine or village shrine where the guardian deity was enshrined, and at the entrance of the village, there was a sacred space made up of Jangseung, Pole, stone pagoda, and God Tree. The stone pagoda was made referring the Joseon Dynasty stone pagoda at the entrance to Daepyeong village in Seolcheo-myeon, Muju-gun.
Outdoor Exhibition
01Ancient Tombs (Doam-ri in Gunsan, Dunsan-ri in Wanju, and Pyeonghwa-dong in Jeonju)
02Stone a Civil Official (Gift of Hwang Byeong-geun)
03Stone Sheep (Hika Akio)
04Stone Standing Buddha from Museong-ri in Jeongeup
close
QUICK MENU
QUICK MENU 원하시는 서비스를 클릭하세요!
등록된 퀵메뉴가 없습니다.